Lisa – Owner/Stylist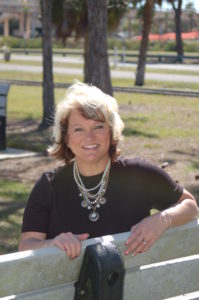 After graduating from the Hillsboro School of Beauty, licensed cosmetologist Lisa began her longstanding career as an organic hair care specialist. She has held positions specializing in complex hair coloring, designer cuts, and traditional barbering techniques. Throughout her career Lisa has focused on charitable endeavors and is focused on advancing society's quality of life through the use of organics. Lisa was quickly recognized as a leader in the organic hair care industry and is certified by Matrix and All-Nutrient. She provides her valued clients with a master understanding of organic hair coloring methods as only a stylist with decades of experience can.
After managing corporate hair chains for almost thirty years, Lisa purchased West Coast Hair Company in 2013. She and her family are enthusiastic Floridians and enjoy everything Florida's unique culture provides. When she isn't in the salon you can find Lisa and her Mastiff at the beach!
Call to make your appointment with Lisa today: 941.484.8200
Or
Click here to book you appointment with Lisa today
Kim – Stylist
Kim found her calling early in life and finds hair styling to be a rewarding outlet for her creativity and vision. Kim has more than 23 years of experience and is constantly pushing herself to learn new techniques and approaches to both hair care and styling. She is a self-professed lover of styles with lots of volume, movement and texture whether it's a woman's long, sexy, bouncy layered or short and sassy cut to a man's razored tousled style. Kim loves the challenge of corrective color, and specializes in truly capturing the wants and needs of her clients.
Although Kim is new to the Florida area, she has taken quickly to the laid-back Floridian lifestyle. When she is not at the salon, you can find Kim spending time with her son at the beach!
Call to make your appointment with Kim today: 941.484.8200
Or
Click here to book you appointment with Kim today
Kathy – Stylist
Kathy has been a licensed cosmetologist since 1986, when she graduated from Ultissima Beauty School in Long Island, New York. Kathy worked in New York for three years before moving to Sarasota in 1989. Since moving to Florida, Kathy has worked in Sarasota, Venice, and in 2009 co-founded West Coast Hair Company with a vision of running a salon that is in-tune with the local community. After running a successful salon for four-and-a-half years, the shop was sold to Lisa in 2013. Kathy specializes in complex hair coloring, unique hair styling, and chic haircuts.
In her off-time, Kathy enjoys spending time with her family and friends, and relaxing at the beach.
  Call to make your appointment with Kathy today: 941.484.8200